Submitting USCG Applications and email instructions to RECs
Instructions for E-mailing Applications to an REC:
Use the USCG application checklist AND the checklist for the specific transaction/ endorsement you are applying for to ensure all necessary items are included.
The e-mail attachment(s) must include a copy of your TWIC or TWIC application receipt.
User fees (if applicable) must be paid using www.pay.gov. The e-mail attachment(s) must include a copy of your pay.gov user fee receipt.
Send your application and supporting documentation to a local Regional Exam Center.
The form and any additional paperwork must be scanned at a resolution not exceeding 300 dpi, saved in PDF format, and not exceeding 8 megabytes (MB) in size. If e-mail size (including attachments) exceeds 8 MB, send documents in multiple e-mails.
Select your desired REC from the list on the left hand side of the REC page at the NMC website: http://www.dco.uscg.mil/Our-Organization/Assistant-Commandant-for-Prevention-Policy-CG-5P/National-Maritime-Center-NMC/regional_exam_centers/ and then select the specific REC to obtain their email address and link.
The subject line of your e-mail must be: (Last name, first name, middle initial, mariner reference #). Example: (Mariner, Johnny, L, #####).
Ensure all attachments are included, then SEND.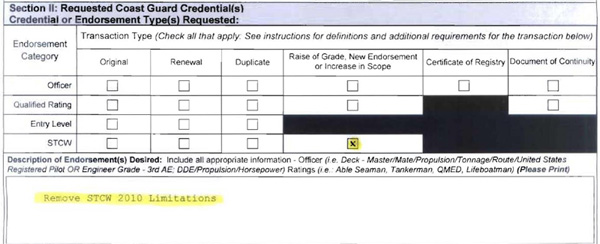 Click here for STAR Center's full schedule, including required STCW 2010 Gap Closing course dates for the next 8 months.
AMO Members click here to register.
Non-AMO (commercial) students click here to apply.